See on Scoop.it – digital marketing strategy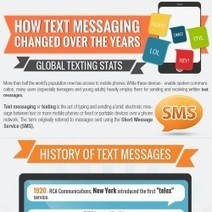 Top messaging sites,
history of messages
sms,
stats of sms,
short message service,
how text messages changed,
text messages stats,
malek's insight:
Texting played a big role in our lives; it was a mixed blessing. Texting can be positive to communicate with other people at work. Texting can be bad when you use it in a hazardous way or for henious reasons..
See on visual.ly
Related articles